Our Courtesy Cars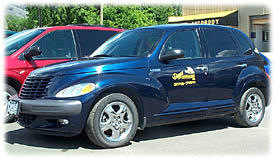 Buzz's runs a fleet of 18 courtesy cars, ranging from compact to midsize to minivans. Courtesy vehicles are booked by appointment. Customer's vehicle insurance is transferred to courtesy cars.

Courtesy cars are given out with a full tank of fuel and are required to be returned the same.

The customer is responsible for care of vehicle and any implications, ie parking tickets, red light tickets, etc. while in their possession.